Ingliston Cattery and Kennels is a long-established cattery and kennels located just outside of Edinburgh.
We have kennels and chalets to house all sizes, shapes and breeds of all cats and dogs. We have facilities for both indoor and outdoor cats. Whether your dog is a Chihuahua or a Great Dane our experienced and dedicated staff will provide the best possible care for them.
If you have any questions or comments then please feel free to contact us for more information!
You can phone us on 0131 333 1307 or email us at
info@inglistoncatteryandkennels.com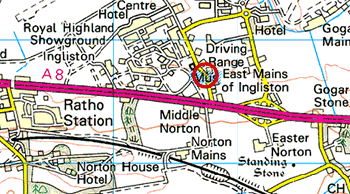 We are conveniently located just off the A8, right next to Edinburgh Airport making it quick and easy to reach us, regardless of whether you are coming to us from Edinburgh, Fife or from the West.

Just take the slip road off the A8 for the Airport. Drive straight through the first roundabout. At the next roundabout turn left (the Hilton Hotel is on your right.) Drive on to the T junction and turn left.

Drive past the Highland Showground which is on your right. Our entrance is on the left just after the white cottage which is situated in our site. There are signs by our entrance.